ამოსაბეჭდი ვერსია
THE SYNTHESIS OF MACROCYCLIC NANO OXIDANTS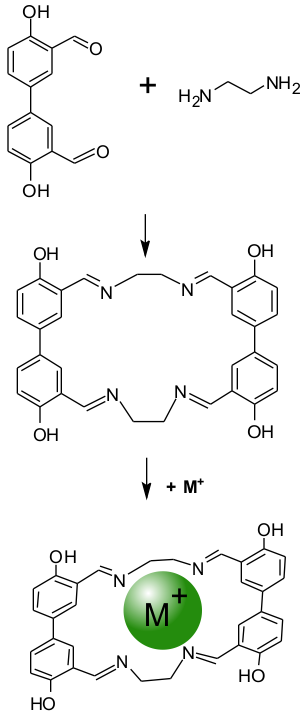 Pic. 1. The path of synthesis and general structure of nano oxidants.
Nano oxydants on the base of 20-, 24- and 30-membered macrocyclic polyazomethines and heavy metal ions have been synthesized by carbonylation of various bisphenols with following condensation/cyclisation and formation complexes.
Innovative Aspects and Main Advantages
The main advantages of discovered nano oxydants are as follows:
Possibility to carry out one-pot oxidation reactions of azo dyes at ambient temperature
Possibility to increase the rate of oxidation reaction
Simple preparation method
Cheap oxidant
The obtained nano oxidant have been used for oxidation of west water containing various synthetic dyes. Oxidation may be carried out by bubbling air (oxygen) in the presence of nano oxidants (0.01% by mass). Azo dyes undergo decolorization after 5-10 min after starting the process.
Areas of application
The main areas of application of prepared nano oxidants are textile industry, namely purification of waste waters.
In addition, the nano oxidants may be used in science as sufficient oxidation agent for the double bonds.
Stage of development
The preparation method of nano oxidants is developed and the sample quantity is obtained.
Acknowledgment. The research has been carried out under financial support of Shota Rustaveli National Science Foundation. Grant # FR/177/6-420/13
Contact details
Agricultural University of Georgia
Contact person: Prof. Elizbar Elizbarashvili
Kakha Bendukidze University Campus, 240 Aghmashenebeli street, Tbilisi, 0175, Georgia
Cell : (995 93) 35 75 38;
E-mail: e.elizbarashvili@agruni.edu.ge