Social Event
Excursion in Rabati Castle (Georgia)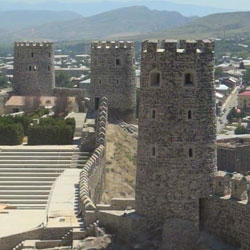 Rabati castle is built in the 13th century under the influence of different cultures over subsequent centuries which is reflected in its architecture. Rabati castle complex lays within the 7 hectares. Here you can find a Church, a Mosque, a Minaret and a Synagogue.
In the 13th-16th centuries the castle and its town of Akhaltsikhe had been the residence of the Jakhely princes. During the following two centuries it was part of the Ottoman Empire and in 19th-20th centuries it became part of the Russian Empire.
In the Soviet period the closure of the border with Turkey isolated the town and resulted in the decline of its importance. Since the collapse of the Soviet Union, the changed geopolitical situation has given a new stimulus to the development of the town.
The restoration of the castle was undertaken over 15 months and its completion marked by a special concert by world famous French singer Charles Aznavour, whose father was born in Akhaltsikhe.
INVITED LECTURES


Prof. Ramaz Katsarava
"Amino Acid Based Biodegradable Polymers - Versatile Materials for Numerous Biomedical Applications"



Prof. George Kvesitadze
"Ecological Potential Of Plants"
ORGANIZERS & SPONSORS

Georgian Technical University



Department of Culture, Sport, Students and Alumni Relations


Association of Professional Chemists
of Georgia


Ltd "L-Tour"


Hotel D-Plaza


Hotel Prestige