David Sarajishvili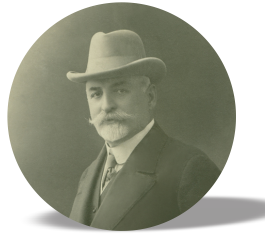 Georgian philanthropist, businessman, and doctor of chemistry and philosophy David Sarajishvili was born in Tbilisi (Georgia) in 1848. After receiving an education in St. Petersburg, Munich and Heidelberg Sarajishvili went to France to study viticulture and winemaking.

In 1884 Sarajishvili founded classical brandy-making technology and built the first Cognac factory in Tbilisi. Just a few years later the factory produced its first product – Cognac which was made by keeping the grape spirit in barrels of Caucasian mountain oak. The cognac production made Georgia the first country after France, which started the making of wine brandy called "Cognac". Between 1889 and 1912 Georgian brandy achieved gold medals at international exhibitions in Paris, Brussels, and Chicago.
Besides these merits, Davit Sarajishvili was a great philanthropist who financially supported talented young Georgians and granted scholarships for their education abroad. The name of Sarajishvili is associated with the foundation of the society for spreading literacy among Georgians, a music school, the Georgian peasant restoration committee, and the construction of the Tbilisi State University (called "the noble school" in the times of Sarajishvili). The list represents just a part of Sarajishvili's deserves which he made for his country.