Social Events
Social event is planned on April 23, 2012 from 9.00 till 20.00 and includes trevel to east Georgia (120 km from Tbilisi).
During conference excursion is planned visiting three excelent plase of east Georgia: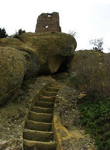 - David Gareji Monastery.
David Gareji Monastery is situated in Gareji semi-desert in Kakheti province 75 km south-east from Tbilisi. Founded in the 6th century by Christian Father St. David the monasteries of Lavra, Udabno, Dodo and Bertubani are famous fro their original cave architecture and frescos of 8 – 13th centuries.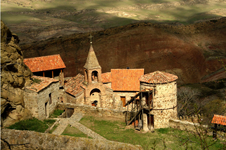 - The Monastery of St. Nino.
The Monastery of St. Nino at Bodbe is a Georgian Orthodox monastic complex and the seat of the Bishops of Bodbe located 2 km from the town of Sighnaghi, Kakheti, Georgia. Originally built in the 9th century, it has been significantly remodeled, especially in the 17th century. The monastery now functions as a nunnery and is one of the major pilgrimage sites in Georgia, due to its association with St. Nino, the 4th-century female evangelist of Georgians, whose relics are shrined there.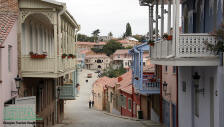 - Fortified town of Sighnaghi (18th century). The town preserved its original image and now offers visitors stunning views of the surrounding Caucasus Mountains. We will also visit Bodbe monastery (4th century), that holds the tomb of St.Nino, the Cappadocian maiden who converted Georgian people to Christianity as early as 337 AD.
As Kakheti is a famous wine-growing region we can't live this place without tasting real Georgian wine, we will take you to a place where you will have this chance and you will be able to learn more about Georgian way of wine-making, quite different from the European one.
Tour's price: 45 EUR.
The payment of the social event must be payed at desk and includes English-speaking guide, launch and wine-tasting.