Invited lectures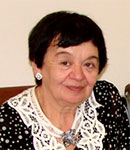 Prof. Tsisia Chkhubianishvili
Head, Biological Control Laboratory,
Kanchaveli Institute of Plant Protection,
Agricultural University of Georgia
Prof. Ts. Chkhubianishvili studied pathogenic microorganisms in the populations of Lepidoptera, Hymenoptera and Coleoptera pest insects in orchards, vineyards, vegetables gardens, foliage and coniferous forests, urban horticulture, ornamental plantings, stores. She has mastered methods of determination of insect microbes and use of microphotography techniques in insect pathology research. Also she have established connection with many scientists from former USSR, France, Austria, Germany, Poland, Sweden, Chine, Japan, United States, and other countries.
Prof. Ts. Chkhubianishvili has experience in insect virus pathology. For the first time to Georgian conditions 53 species phytophages, 19 family of order, Lepidotera insects were revealed as the carriers of causative agents of virus diseases in several ecosystems (grassland, field, vegetable garden, vineyard, orchard, shelter bait forest, ornamental plantings, Forest). All pathogens were registries for the first time for Georgia, 41 – for the territory of former USSR.
At present Prof. Ts. Chkhubianishvili, study entomoparasitic nematodes of pest insects for further use as a bioagents to biological control. Within the next years, research activity will be aimed on the finishing study of the selected bioagents, for biological plant protection.
Ts. Chkhubianishvili was participant of several local and International research projects and scientific forums, she is author of different scientific articles (nearly 200) on Insect Pathology (virus, bacteria, fungi, protozoa and entomoparasitic nematodes). The recommendations on biological plant protection from main pest insects, and Integrated Pest Management are published.
Prof. Ts.Chkhubianishvili 2011 has awarded – "IBC" the best teacher (The IBC's TOP 100 EDUCATORS).